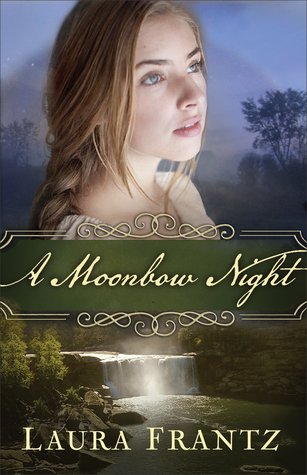 Set in bygone days— a time when Daniel Boone lived, explored and settled—Laura Frantz's "A Moonbow Night" springs off the page toting courageous characters through challenges I'd only wish to experience from the pages in this novel. These are brave individuals, who faced challenges and met with resistance that our settling forefathers suffered.
Temperance Tucker, an innkeeper's daughter, yet highly skilled in surviving in the wilderness and knowledgeable about the lay of the land, meets Sion Morgan. Sion is a Virginia surveyor looking for a guide through turbulent Indian country. The unrest of the Indian nations and why they attacked settlers pulsates off these pages. As do the complex and varied characters the reader meets along the way. Indeed, I have several favorites in these pages.
As I read this novel, I experienced conflicting emotions. Should I speed through and find out what was going to happen? Or should I savor the pleasing rhythm and cadence that Laura writes with. It took self-control, but I chose the latter.
Laura—as ever—wrote with such passion for the life of her characters, till the very last line. She drew me in and lead me through a stunning journey that I'd never venture in the flesh and yet will never regret that I visited in the pages of her novel.
Rich in the period's experience including foods, the ruggedness of the land and the interactions of people from different cultures caused me to feel like I'd stepped into a time machine for such rich detail. Yet, I never felt like this novel had turned into a history book, because Laura weaves in those intricate details with her character's journey, ever inviting the reader to experience more. Laura Frantz stories deliver. This is a highly recommended read and reread and yes, reread it again!
I thank you so much dear Laura! You put me on the list to receive your novel for a review! I only can present an honest opinion and was delighted to receive "A Moonbow Night". I'll tell you now, you are the only author whom I have both the printed novel and audio novels for the same stories! I'm eager for your next labor of love!
1)
The actual Moonbow that is a focus landmark in your story is intriguing. When did you discover the Moonbow and again, when did you decide to write this wonder into your novel?
Since childhood, Cumberland Falls has been a favorite place. I didn't fully appreciate the unique setting until I was grown, finding it a beautiful backdrop with its history and romance. I wish I'd honeymooned here!
2)
The way you handled the depth of the loss and love in this novel surprised me. Yet, your story didn't come off depressing. You handled this topic with care. Did you research grief and loss in depth or know someone who inspired this story?
So thankful the grief theme rang true. I've always felt things very deeply and Tempe's ruminations that life is full of little losses is something I've pondered many times. Losing a person, of course, is a much larger loss than the ones Tempe mentions at that point in the story, but the feeling is much the same. I've lost a beloved grandmother, perhaps the greatest grief I've known. But like Tempe, my life has been made up of all kinds of little losses, a sort of bittersweet existence.
3)
I just love Temperance or Tempe as she is more often called. How did you come up with her character? And did you pick the model for your cover and how it was laid out? It is an exquisite cover that represents Tempe well!
I started with Tempe's period appropriate name and knew she had to be a stalwart character being raised on the frontier. No shrinking violet! I wanted her to be a tribute to those pioneer women of old. As for the cover, it is perfect for the story. The original cover was much more suspenseful but lacked a historical feel so my publisher's art team graciously asked my personal preference. A split screen was decided on with the very important falls at the bottom and then Tempe herself, looking up as if gazing at the moonbow, her braid slightly frayed as befitting a frontier woman. I had to chuckle at the model for Tempe (the art team chose her) as she has a tattoo which was edited out.
J
4)
Sion Morgan is a favorite character. Do you have any photos of him on your Pinterest? Who inspired his personality?
J
Sion is a strong character, as befits a hero, and is a surveyor which was a well respected trade in his day, though not with Native Americans, understandably. Before writing the novel, I purchased a painting by the frontier artist David Wright with the humorous title of, Someone is Wondering Why He Don't Write. There was the epitome of my hero in the woods, holding a gun in his enormous hands, begrimed and looking weary in a rare idle moment. Inspiration comes from unexpected places.

5)
Your character Nate Stoner is amazing and of course a favorite with me. How did you come up with him?
I needed a father figure for Sion, someone grounded in his faith who would cause enormous heartache for our hero later on and be the bridge between Sion and the Lord.
6)
Raven – what a good representation of an individual caught between two cultures. How did you discover Raven?
Raven is kind of a shadowy character which I wish had been fleshed out more (word count wouldn't allow for that) but perhaps his role was to simply show his conflicted position, caught between two worlds/cultures. Readers are already asking me what happened to him. I honestly don't know!
7)
When is your next novel to be published?
My next novel releases January 2018 and I'm excited since cover art is now underway, my favorite part of publishing
J
. Can't wait to share that with you soon!